Plenty of gamers out there ridicule browsers gaming. They overlook the fact that not everyone can afford top-notch gaming gear. Besides that, some browser titles are pretty impressive to play and quick to load up when you want something to do while you wait.
I have put together 23 of the best browser FPS games (with one or two non-FPS games) that you can play today without a need to download anything. Let's get into it.
1. Forward Assault Remix
Forward assault Remix is a game that is developed by the same guys that made Bullet Force. This CS:GO type game is fun to get into as it has a highly tactical aspect to it. There are plenty of objects to take cover and the gameplay is smooth meaning taking down the enemy team can happen fast. If you have played a 5v5 first-person shooter game like CS:GO then you will like Forward Assault Remix. For a browser game, it does pretty well with frames if you have a good computer. Although, most computers and laptops can run this without a doubt. When the match begins you are armed with a pistol and a combat Knife. To win the game you must be the last team standing. As you kill enemies and win matches, you earn cash which can be used to buy new weapons. This is a great game to have available when you want to play with a team and improve your FPS Skills. The game can be found here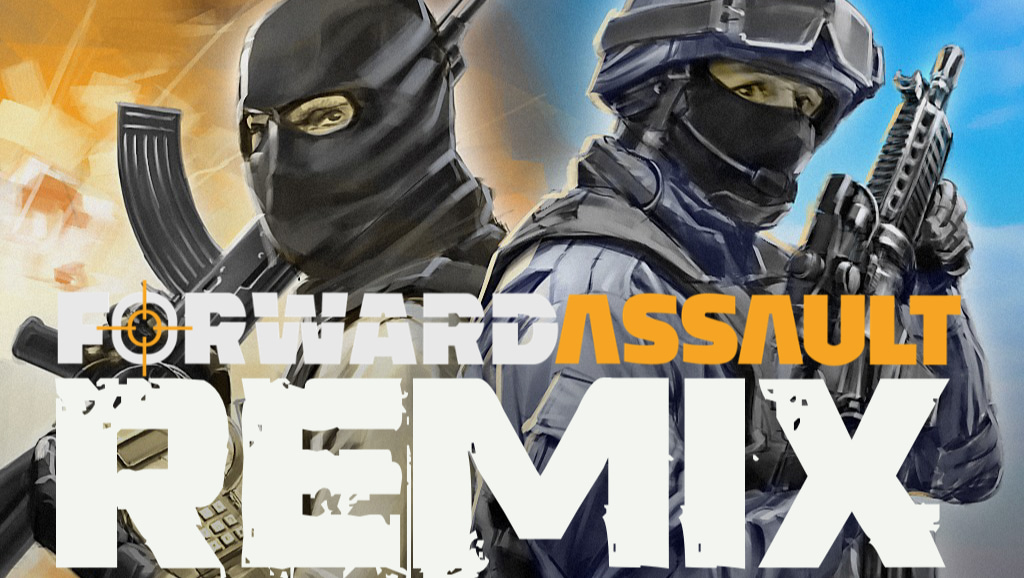 2. Venge IO
Venge IO is a fast-paced first-person shooter action game developed by Cem Demir. You get cards as you kill enemies and these cards help you unlock new abilities. Abilities give you an upper hand against other players. Strategy plays a big role in this game as you can mix and match abilities and have different abilities compared to other players. In Venge, you get 4 guns you can pick.
Scar – suits mid/long-range combat.
Shotgun – high-powered close-range weapon.
Sniper – a powerful long-range weapon.
Tec-9 – short/medium range rapid-fire SMG
Pick the weapon you think can bring the most damage to your opponents. In my experience, the sniper did the most damage and dealt with players quickly. If you want to try out a fun game then I suggest Venge.io.
3. Merc Zone
Merc Zone is a game developed by Blue Wizard Digital and was released in July 2020. Blue Wizard Digital is the same developer that developed Shell Shockers. This game is like Super Hot as you get red characters and models that don't have too many textures on them. The idea behind this game is to Kill, Kill, Kill. You get killstreaks, abilities and several guns to pick from. At one point, I found myself using a minigun. The red enemies are easy to spot so, it is more of a "who is faster" game. A must-try if you find yourself needing some action on a slow Saturday. You can find the game at Merc.zone
4. QuakeJS
Quake 3 is an oldie but goodie first-person shooter from the late '90s. Developed in 1999 by ID Software, Quake has and still is a fan favorite. QuakeJS is a browser port of Quake 3 which was originally created to prove browser gaming feasibility. If you have played Quake 3 before, QuakeJS feels the same it is just in the browsers this time. The 90's graphics make it easier to run on almost any computer or laptop. Jump into the quakejs.com world and give it a try.
5. CS Online Club
Here is another one for the Counter-Strike fans. CS Online Club is a browser port of Counter-Strike 1.6. I found this game to have flat textures. There are plenty of browser games out there that have better quality textures and still run smoothly. It runs quite well on the browser and the gameplay is similar if not the same as counter-strike 1.6. The good thing about this game is that it has a good community behind it. This means that the servers always have players meaning you don't have to wait too long to find a game. The discord group is quite active, you can get answers to questions you may have. If you are eager about giving this game a try, you can try it at cs-online.club.
6. Bullet Force
Bullet Force is an FPS developed by Blaze Games and was released in 2016. They had a big update in 2018 which improved the game. This game has a Call of Duty feel to it as you get abilities like UAV's when you get killstreaks. It offers a wide variety of weapons to pick from and there is a game mode where you can sample every gun as you get kills. I found myself hooked for a good hour playing this game and id recommend it as a decent browser FPS.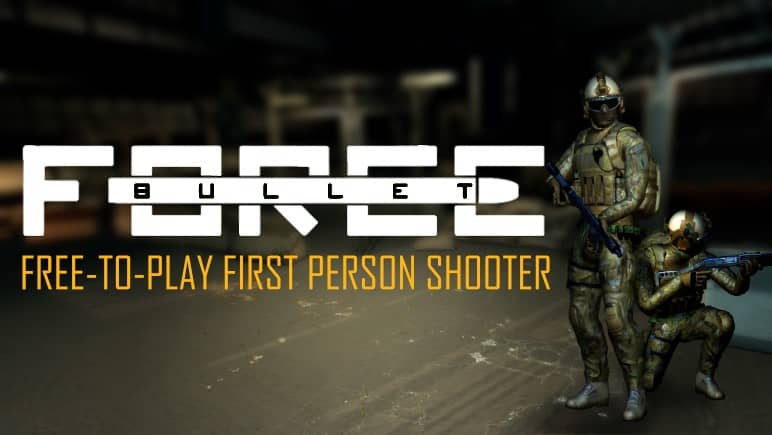 7. Leader Strike
Leader strike is a first-person shooter game that is very tactical with a twist to it. In leader strike, you get to pick your favorite world leaders like Barak Obama, George Bush, and Kim Jong Un. The tactical aspect comes from the leader you choose. Each leader has a unique set of weapons and abilities. The political who kills the most politicians wins the game. This is a fun concept and it would be one id love to see in a AAA game. You can give leader strike a try here.
8. 1v1.lol
While not a First-person shooter game, I decided to add 1v1.lol to the list because it is a great shooter game that mocks Fortnite mechanics. In 1v1 you can build the same type of building as in Fornite. Besides the textures and artwork, a lot of the animations and the UI look like Fortnite. The low-poly design makes it easy to run in the browser so most computers can give this game a go. The downside is that you don't get any vehicles and all the extra perks that come with playing Fortnite. It is a battle royal game worth mentioning. You can try 1v1.lol here.
9. Warbrokers IO
Warbrokers is a game that initially pulled me away. It is like having a first-person shooter aspect in Minecraft. You get to game modes, the classic and the Battle Royale. The Battle Royale seems to be more popular to most players. This game like every battle Royal aims to find the loot and be the last man standing. The Low poly graphics make it easy to run on any PC giving those without a good PC a chance to have fun playing a decent Battle Royale. This game includes vehicles that you can use which is quite impressive for a browser game. After 10 minutes of playing Warbrokers, I had forgotten that it was a low-poly game as I was dragged into the fun.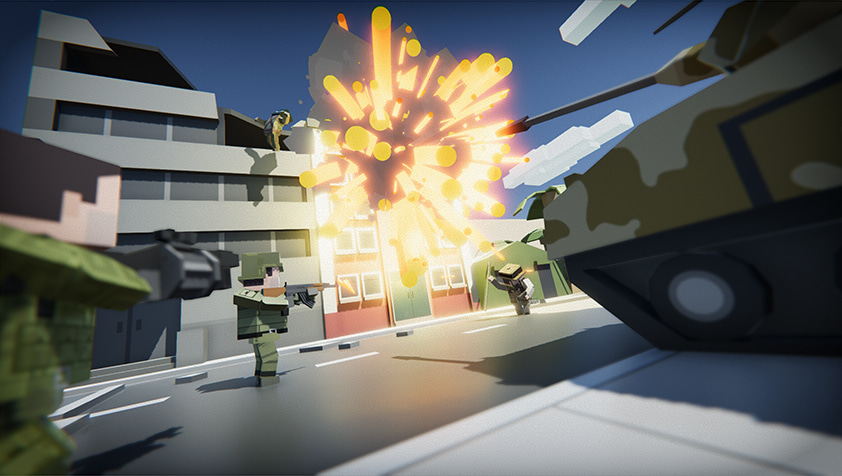 10. War Attack
War Attack is a First-person browser shooter that is developed by Gaming Style. It is yet another game on this list that features Minecraft style characters. You get a variety of guns to pick from like machine guns and a sniper and you get a hatchet as a weapon for closeup melee attacks. Although you can play without creating an account, that takes away from the ability to enjoy the game to the max. When you create an account you can pick out a custom loadout and customize your character to look distinctive. This game comes with a variety of game modes to pick from so you will never get bored.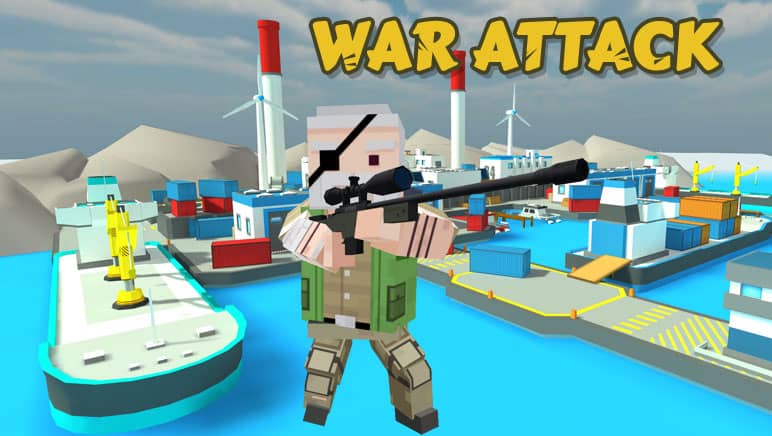 11. Arena Shooter
Arena Shooter is developed by FreezeNova which is the same developer that developed Rebel Forces. In Arena Shooter you battle it out with players across the world and try to be the victor. You get a wide variety of guns to take down your enemies so you won't have a problem winning some games if you master the gameplay. I have played some browser games that have good textures and Arena Shooter is not one of them. I found this game fun once I got the flow of it and I consider it one of the best on this list in terms of gameplay.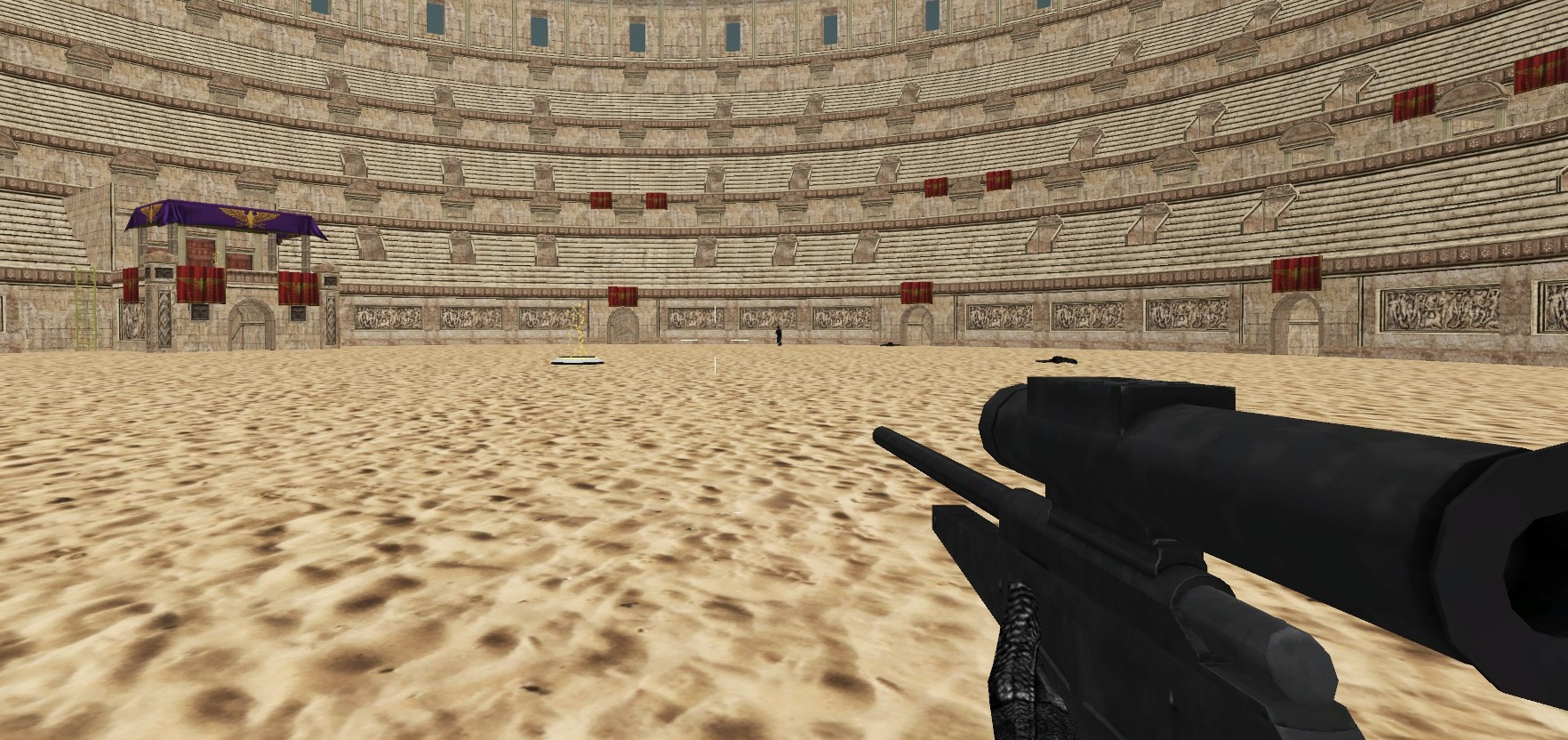 12. Cartoon Strike
Some more blocky madness with cartoon strike. With characters like Minecraft characters, Cartoon Strike must be one of the fun games to play. It has plenty of servers and a decent number of players so finding a match will be easy. I found the sound effects to be a bit arcade-like and the gameplay a little slow but the overall experience was good. There are plenty of objects to use as cover, you may need to bring your tactical thinking cap to the battlefield. If you want to give Cartoon Strike a try you can find it here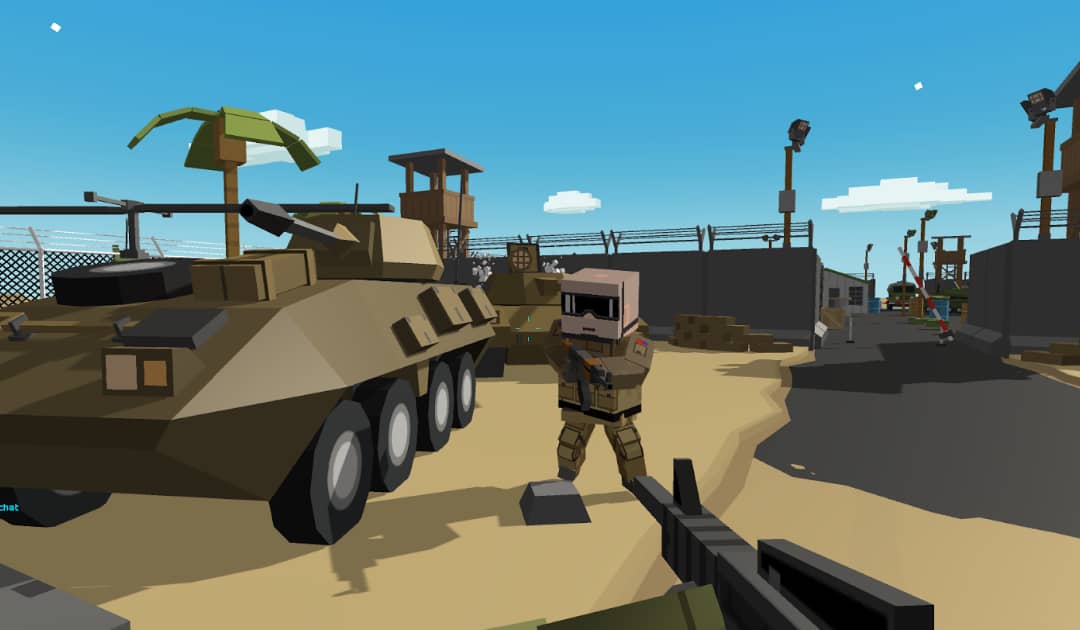 13. Rebel Forces
Rebel Forces is a strangely fun Browser FPS game developed by FreezeNova. I say it is strangely fun because the fun part about Rebel Forces is the gameplay. You practically go around the map moon jumping while annihilating your opponents with a variety of weapons. In Rebel Forces, you get the option to play a solo campaign or play against players in PVP mode. As you get kills you earn money which you can use to buy guns and equipment. While I enjoyed myself playing this game, the graphics are terrible and the mechanics aren't the best. So, if you feel like going around blasting players then Rebel Forces will do justice for you.
14. Bullet Party 2
Bullet Party 2 is a game that is comparable to Bullet Force. It is a fast-paced First Person Shooter that is fun to play. The sound effects are pretty good and the voiceover is pretty sweet when you get some kills. The textures and gameplay aren't too bad either and far better than most browser games out there. I should say that this is one of the well-polished browser games on the list and one that browser fans should try.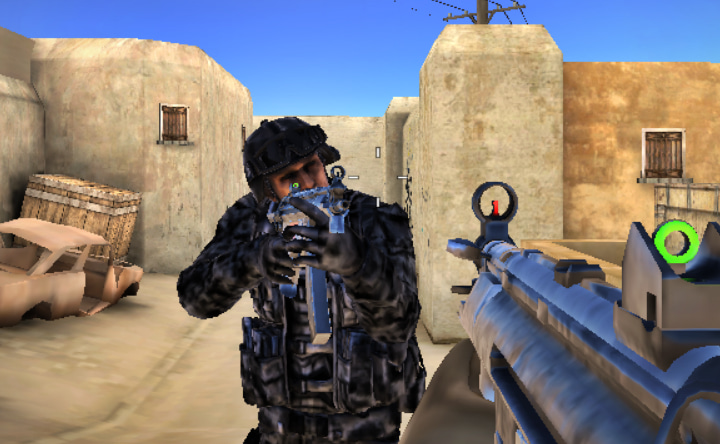 15. Mini Royale 2
Mini Royale 2 was initially a Battle Royale game when it was first released. It is an awesome low-poly game that Battle Royale fans will love. The game has more game modes but the Battle Royale game mode remains the most popular. The difference about this Battle Royale game is that you can pick your a few things like backpacks and Armor before landing. Like all Battle Royale games, the objective is to land in a place where you can find the most loot. The last man standing wins. The pace and gameplay are fast and fun. Try the game out at miniroyale2.io.
16. SpaceGuard IO
Spaceguard.io is a browser game with a sci-fi theme to it. It is developed by FreezeNova which also developed crazy shooters 2 which is a game that is not on this list but worth checking out. In Spacegaurd you can do platform jumps and dash through portals to get kills. The game spells out pure mayhem and brings out the timing skills in you. For Sci-Fi fans, SpaceGaurd is a must-try as it blends space elements with the first-person shooter element.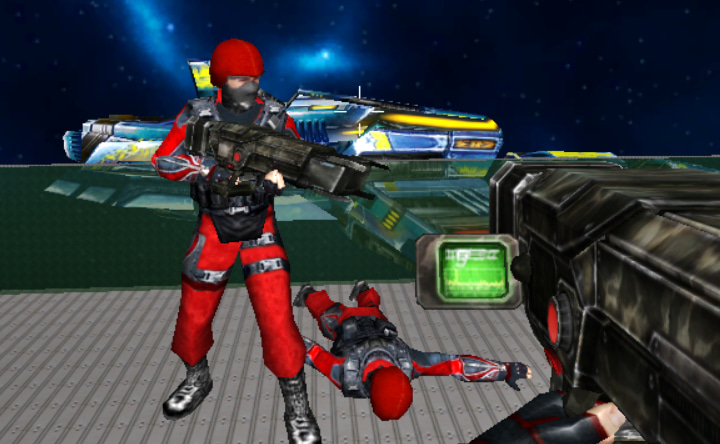 17. Pixel gun 3D
Pixel Gun 3D is a first-person browser shooter game that brings in an old feel to the 3D shooter realm. The characters and textures are pixelated hence the name. You get blocky characters like Minecraft but the textures are like an 80's 2D game. In Pixel Royale, you get a limited amount of guns to work with (four guns to be precise). You get a Shotgun, a sniper rifle with a scope, a revolver, and a light machine gun. As you kill enemies you collect more ammo and that is how you keep the boat afloat. Pixel Gun 3D offers three maps you can pick from meaning you stand a chance of getting bored easily. Hopefully, future updates will spell new maps and more guns to work with. Overall, the game is fun and I recommend it as a good browser fps game.
18. Polyblicy
Polyblicy is a new game developed by Gaming Style which was released in 2020. It is a low-poly first-person shooter game that you play in the browser. Due to its low-poly scenes, this game runs easily in the browser, giving players with average computers a chance to play. This game offers pretty good gameplay that gets you hooked easily. It gives you the ability to swap guns in-game. This means you can quickly get the hang of it by trying all the guns and finding the one that works best for you. If you have played Rush Team and War Attack then you may feel that Polyblicy is like those two games. In my opinion, this falls under the top 10 of my favorite browser games as I can quickly jump into matches when I am traveling.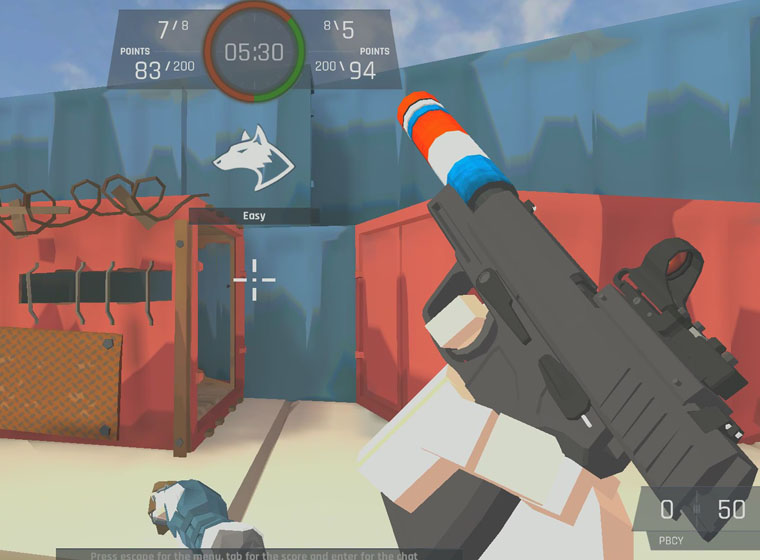 19. Rush Team
Rush Team is an objective-based multiplayer first-person shooter that is played in the browser. The company that developed Rush Team also developed Polyblicy and War Attack. They specialize in creating browser games so one would say they have mastered the art of browser game optimization. Rush Team has smooth gameplay, I would say this game is a lot more polished than the others when it comes to that. Each player is armed with an AR, a pistol, a combat knife, and two grenades. The aim is to complete objectives and kill the other team players. Rush Team is one of the browser games that you should try as it is fun and smooth to run on most PC's.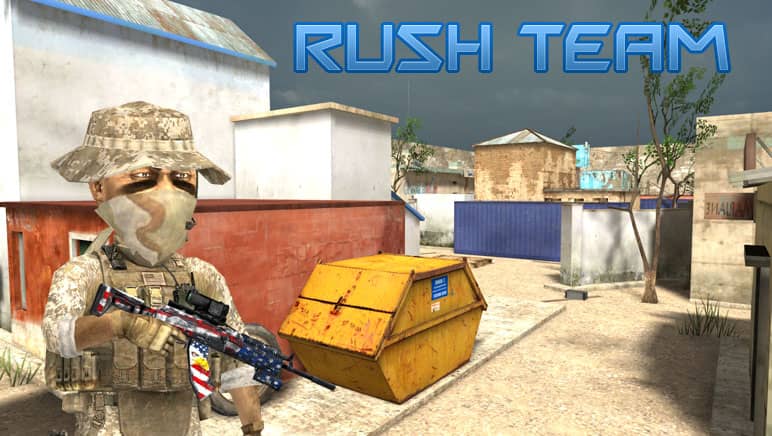 20. Deathmatch Combat
Deathmatch Combat is a first-person shooter that is developed by FreezeNova. While it features several game modes, the game mode I enjoyed playing the most is the Zombies game mode. If you are a fan of Zombie first-person shooters then you might find a liking to this game. As a browser game, you won't find the most gruesome action as the quality is pretty low but the game gets pretty interesting when the zombies pile up. You can dash around the map to get to places and avoid fire from players. This is a game to try when you need to let off some steam.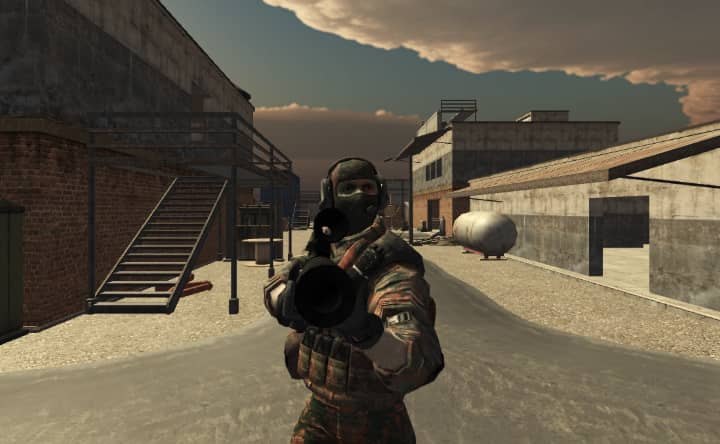 21. Krunker IO
Krunker IO is probably one of the most popular if not the most popular browser games out there. The servers are well-populated meaning when you want to pass time, you can find a match quickly. Krunker graphics are pixelated and you get Minecraft like characters jumping around the map. The game mechanics are pretty smooth and thanks to the low-quality textures, about anyone can jump in and play a match or two. Krunker is also a competitive game because it has several die-hard fans so prepare to put your A-Game on.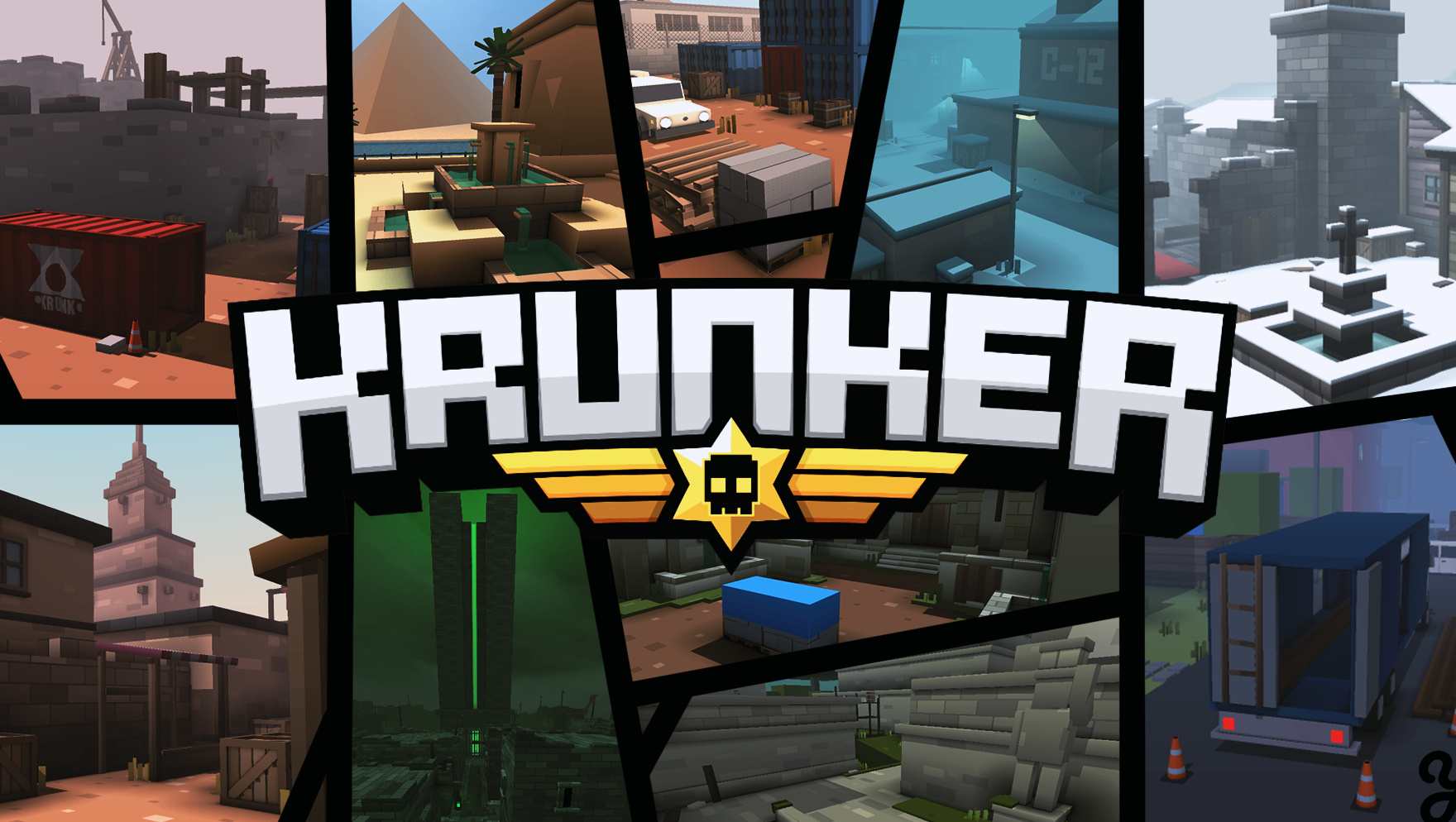 22. Shellshockers IO
Shell shockers is a first-person shooter that brings something new to the table. In Shell Shockers, you run around as an egg shooting other eggs. It was developed by the guys at Blue Wizard Digital and oh my it is fun to play. You get eggs splattering everywhere when you get kills which is hilarious. This game is strict on gun range meaning given the gun you pick, you need to be in the correct range to get the kill. It offers a few nice features like picking out a loadout. You get 7 different weapons and they all have egg related names. Shell shockers is a game that might be irritating to play at first as you may feel that your shots aren't hitting but after a while, you get the hang of it.
23. Warmerise: Red VS Blue
Warmerise is a game that separates itself from most of the other browser FPS games out there. It has a futuristic Sci-Fi theme and it has a good number of weapons and maps. The game even features vehicle combat which is unlike many of the other browser FPS games. The Warmerise community is active and finding a match is easy. Your lunch breaks will be packed with action once you learn the ropes of this game. You buy weapons and Items using the In-game currency called "Cash". The game is quite generous as there are three ways you can earn some "cash". The first way is by playing the game and gaining XP, the second is by selling weapon skins and the third is by using real-life money. But, warm arise isn't the most visually pleasing browser FPS game out there. The gameplay in my opinion is quite alright but the textures aren't great at all. Non the less it's a good game that browser FPS Fans should give a try.
Conclusion
I have several games that I loved on this list like Mini Royal 2, Bullet Party, Venge IO, and a few others. Go ahead and give these awesome games a try. I am excited to hear what you think and, which one is your favorite in the comment section.